new storm doors calgary
we supply and install new storm doors, and we provide storm door maintenance & repair services
Our storm doors installation service is the perfect way to protect your home from weather storms while increasing security from potential intruders. Storm doors Calgary are designed to withstand high winds and keep out precipitation, making them an essential part of any home's exterior. Our team of experienced professionals will ensure that your storm door is installed correctly, so you can rest assured that your home is safe from the weather. In addition, we offer a wide variety of storm door styles and colors to choose from, so you can find the perfect match for your home's aesthetic. Contact us today to schedule a consultation and see how our storm door installation service can benefit you. We also offer storm door repair and replacement services in Calgary and have been doing so for over 25 years! If your storm door is damaged or needs to be replaced, we can help. We offer a wide variety of storm doors to choose from and can custom build a storm door to your exact specifications.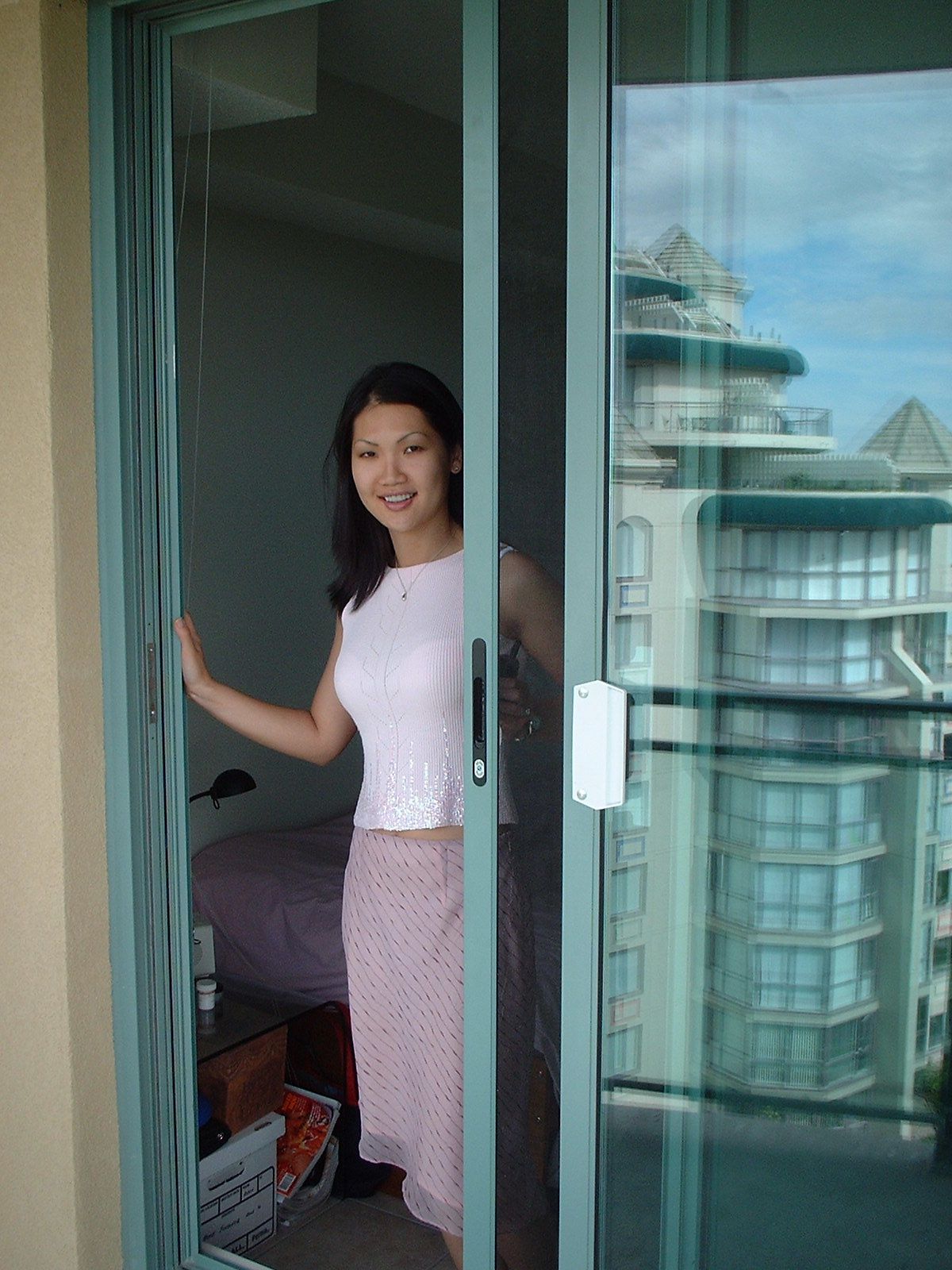 We provide residential glass installation & repair, commercial window repair, new storm door installations, and more to Calgary, Airdrie, Okotoks, Cochrane, Chestermere, Foothills, Strathmore, and more surrounding areas and throughout Alberta! Call 403-272-8932 to book a service, or use our online contact form.
request a storm door repair or installation service
Call us at 403-272-8932 or fill out our contact form to reuest a service or free estimate for us!
get free estimate
5-star reviews
"Klaad Glass really came through and helped me out in a bind. Having moved from Alberta, I was stuck trying to get my window repaired in preparation for selling my condo. Even with 3000 km's between me and Calgary, KLAAD was proactive, communicated within a timely manner, was able to coordinate access from me being a far, and their repair was top notch."
Read more Google reviews →
"I contracted KLAAD Glass to take care of a few jobs for me. Their lead time was excellent. And the jobs I sent them were definitely not easy. They completed them without issues. Coordinated with our customers directly and made it simple to give the details and move on to my many other busy tasks. I will definitely look to bring them back for more work in the future. They've got enough crew members to handle any jobs I have come up."
Read more Google reviews →
"KLAAD is a very professional and reliable glass installer of ours. We use him for service repairs on windows/doors as well as sealed unit installs. I highly recommend their service to anyone who is in need of repairs and installs. 10/10 recommend"
Read more Google reviews →
Types of storm doors
There are a few different types of storm doors available on the market, each with their own benefits. The most popular type of storm door is the full-view storm door, which offers a clear view of the outdoors while still providing protection from the elements. These doors are typically made of glass or clear plastic, and they can be installed on any type of door. Another type of storm door is the half-view storm door, which offers a partially obstructed view of the outdoors. These doors are typically made of wood or metal, and they can be a great option for doors that are located in high-traffic areas. There are also sliding storm doors, which offer a full view of the outdoors and are typically used for rear home entrances. Other types of storm doors we can help repair, replace, and install are:
Steel storm door Calgary
Storm door hinge side z bar
Insulated storm doors Calgary
get free estimate →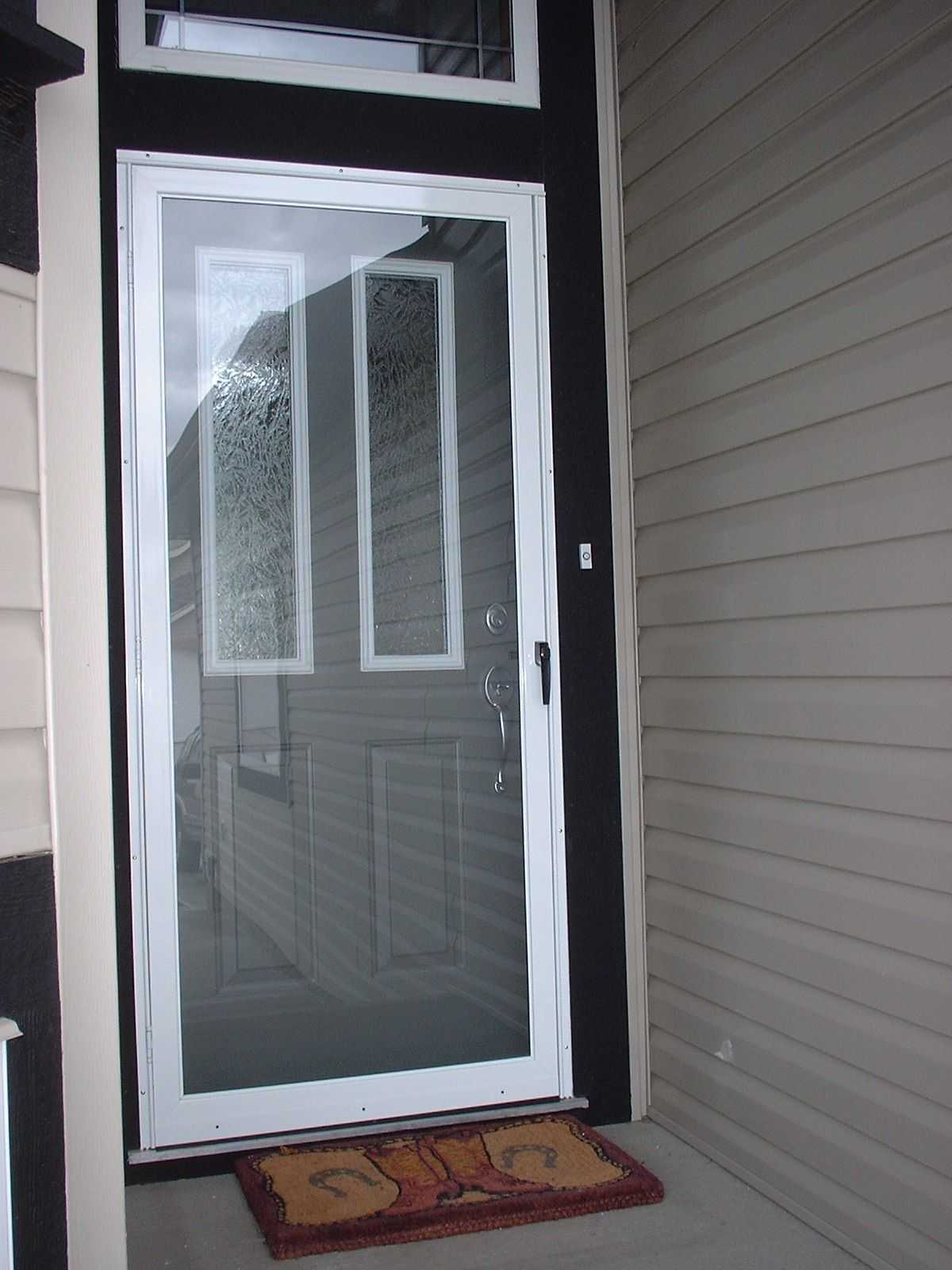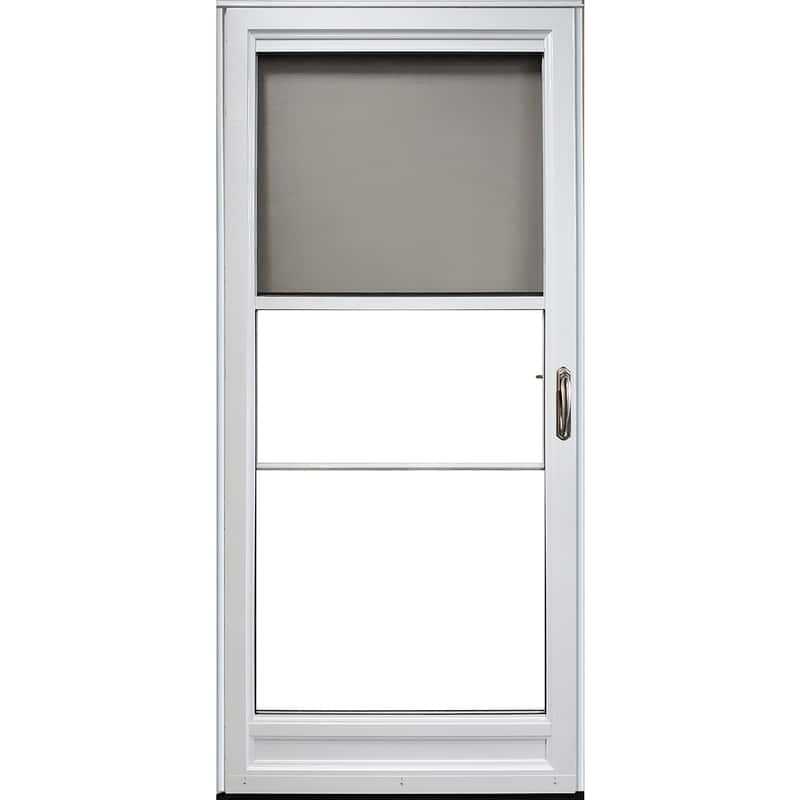 What is a storm door?
A storm door is an additional layer of protection for an entrance door. Storm doors usually have a glass panel that can be opened and closed to allow airflow into your home, but also offer an excellent level of weather protection and security in Calgary. Storm doors are installed in front of a residential entrance door and will help in reducing drafts, precipitation build up against the main door and reduce energy costs. Storm doors can also provide an extra layer of security by creating a glass barrier while still allowing airflow on those hot summer days and evenings. Storm doors in Calgary have many benefits from not only improving the look of your home, but improving it's energy efficiency too. Whether you're looking to improve the security of your home or simply want to reduce your energy bills, a storm door is a great option.
get free estimate →
Storm & screen doors calgary
Retractable screen doors Calgary have become a popular option to getting more airflow into your home. Retractable screen doors roll up into a small vertical housing on your entrance door and are simply "rolled out" across the door opening when needed. Their advantage is an unobstructed view and airflow into the home as it contains no glass, just screen mesh. These types of screen doors don't have the security advantages of storm doors in Calgary, but they do the trick when security or weather protection are not your primary goals, but airflow is!! If you're looking for a high-quality retractable screen door, KLAAD Glass can help you choose the best fit for your home, and we can even help with the installation as well. Contact us today!
get free estimate →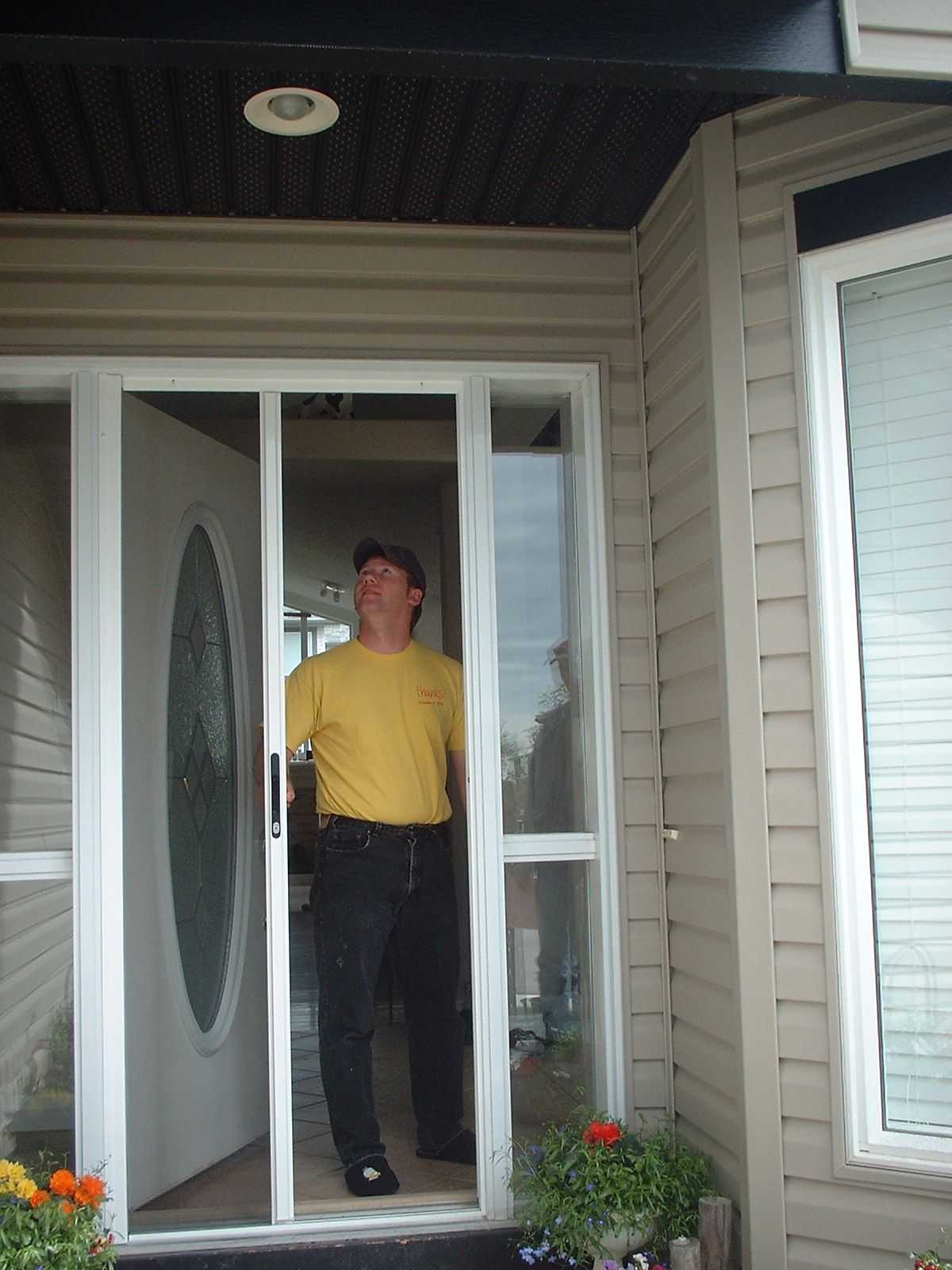 Get your questions answered by our
storm door experts!
How much does a Calgary storm door cost?
On average, a Calgary storm door cost between $250 and $700, depending on options and color, and does not include the installation. Generally, standard white doors are far less expensive than doors colored to match your home. There are also many handle and locking/keyed options too, and can add to the final cost of the door so ensure you have all the information when making your choice. That is where KLAAD Glass Calgary can help!! When choosing a Calgary storm door, it is important to consider all of these factors to get an accurate estimate of the cost for your storm door, to ensure you get the right door for your home. Contact us today to get an estimate.
How do you install a storm door?
Because storm doors are typically made of glass or metal, they can be a bit tricky to install. The first step is to measure the door opening and then cut the storm door to size. Next, use a drill to make holes for the handles and hinges. Once the holes are drilled, it's time to attach the storm door to the frame. Begin by attaching the hinges, and then secure the door in place with screws or bolts. Finally, install the handle and any other hardware, such as a latch or deadbolt. With these simple steps, you'll have your Calgary storm door installed in no time. Now if that seems simple, it is!!!! BUT, sometimes a storm door needs some special modifications to make it perfect, and that's where KLAAD Glass can help. If you need assistance with a storm door selection, or repairs or a complicated installation, contact KLAAD Glass TODAY!
Do storm doors add value to your home?
Any homeowner knows that the key to a comfortable home is making sure it is well insulated. In winter, you want to keep the warm air in and the cold air out. In summer, you want to keep the cool air in and the hot air out. Storm doors are an excellent way to add an extra layer of protection to your home, keeping it more comfortable year-round. Not only do storm doors help to regulate temperature, but they also provide an extra level of security. In addition, storm doors can be a great way to add curb appeal to your home and show your commitment to a well maintained and cared for home. Calgary is known for it's extreme weather conditions, so a storm door can be a valuable investment for any homeowner. When it comes to adding value to your home, storm doors are a wise choice. Click our FREE ESTIMATE link and learn how KLAAD Glass Calgary can help!!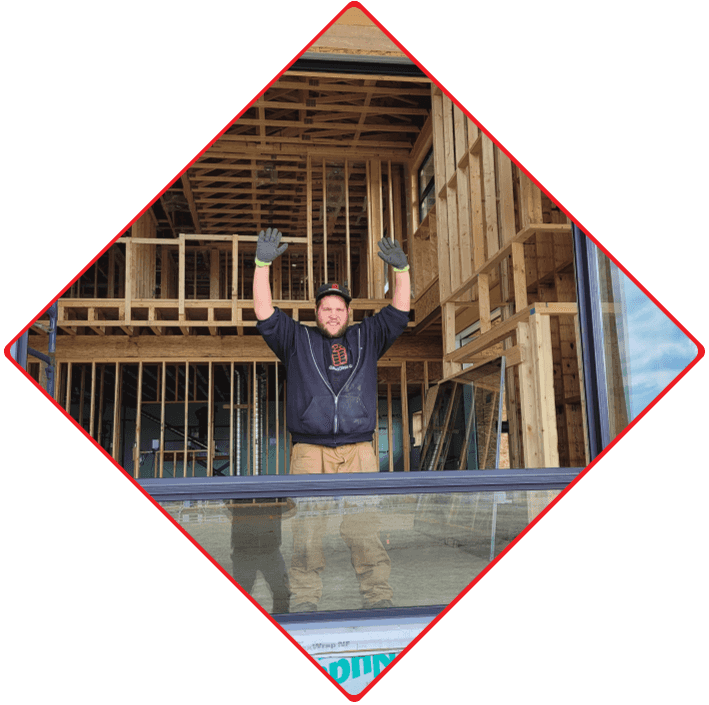 need a storm door installed or repaired?
book your glass service today!
By giving us a call, or writing us a message using our online contact form, our experienced team can provide you with an estimate on your next window or door project!
get free estimate on your storm door install or repair
Call 403-272-8932 or send us a message below!